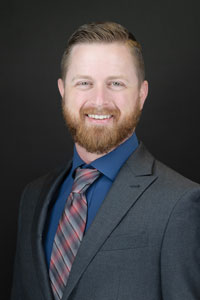 main: 970.223.2727
fax: 970.226.0813
---
Justin R. Bishop
Associate
Justin, a native Texan, joined the Soukup, Bush & Associates team in July of 2021. He graduated from Baylor University in May of 2017 with a Bachelor of Arts degree in Arabic and Middle East Studies and from Colorado State University – Global in June of 2021 with a Bachelor of Science degree in Accounting.
Prior to coming to Soukup, Bush & Associates, Justin worked as a Nuclear Missile and Operations Officer at Francis E. Warren Air Force Base in Cheyenne, Wyoming. He separated from the military after four years as a Captain with an Honorable Discharge in 2021.
In his free time, Justin enjoys watching the Baylor and the University of Nebraska football teams and spending time with his wife and baby boy.