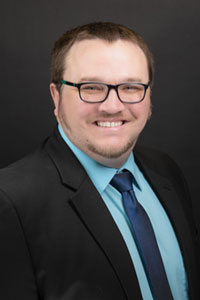 main: 970.223.2727
fax: 970.226.0813
---
Dane E. Pribbeno
CPA, Associate
Dane joined Soukup, Bush & Associates as a professional intern for tax season in 2018 and 2019, and was brought on as a full-time member in June of 2019. He works as an associate in preparing individual tax returns, business tax returns, and auditing.
He graduated with a Master of Accountancy in Taxation degree from Colorado State University in 2019. He initially graduated from the University of Colorado at Boulder with a Bachelor of Music degree in Classical Guitar and Audio Technology.
In his free time, he enjoys playing guitar, writing and recording music, spending time with friends and his two dogs, and enjoying Colorado outdoors.